Made in Noto
能登は優しや土までも
Noto
Japan Nanao-city, Ishikawa-Prefecture
Noto is the name of the place where our headquarters office is located.
Noto's local mountains and local sea
are nurtured by the harmonious blend of nature that is defined as the Globally Important Agricultural Heritage.
SUGIYO has a long history of over 400 years.
We keep growing with the natural environment in Noto.
Originator of Crab Flavored Seafood
SUGIYO developed the world's first Crab Flavored Seafood.
SUGIYO has the strength to learn from mistakes and use that learning to lead to breakthroughs.
Japan Technology
SUGIYO satisfies the needs of individual customers internationally and delivers our innovative products to you.
Received "The Emperor's Cup"
We received "The Emperor's Cup", which is the highest honor in the Ministry of Agriculture, Forestry and Fisheries.
Fish cake culture in Japan
In Japan, there are various kinds of fish cake such as "Kamaboko" and "Chikuwa".
Although there are various theories, they appear in a certain written record in 1115 in the Heian period (794-1185).
Currently, Japan is the largest consumer of fish cake in the world.
Grilled Kaoribako with soy sauce and butter

Seasoned Kaoribako

Hand-rolled Sushi

Shabu-Shabu

Rice ball

Kagaage with Teriyaki

Simmered fried fish cake and bamboo shoot

Oden
Fish cake culture in the world
Fish cake culture has spread throughout the world with the globalization of cuisine which is constantly evolving.
Stir-fried pepper

Shichirin-Grilled Kanikama

Fresh spring roll

Grilled Kaoribako with butter

Sushi

Fried Kanikama

Paella

Kagaage with chili sauce

Croque-monsieur

Gratin
Quality
安心・安全
For quality control and the establish trust, we constructed a quality management system by which we monitor our products.
We are engaged in thorough quality control from the raw materials to the finished goods and deliver reliable products to our customers.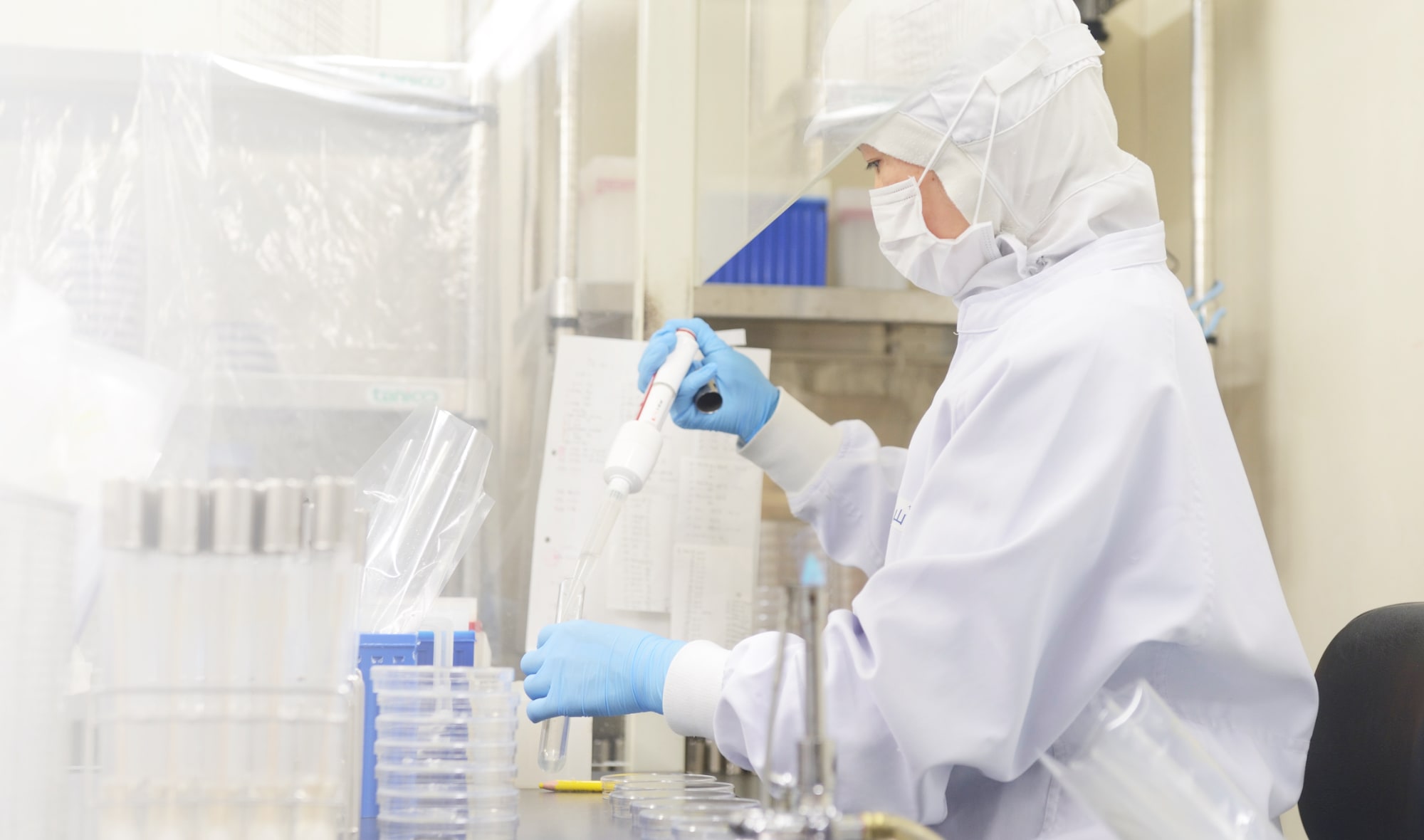 Company
Information
企業情報
Message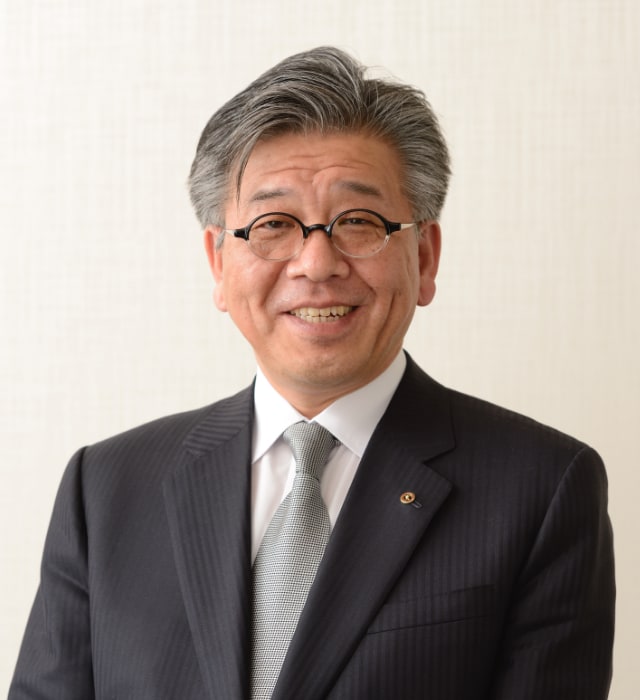 We continue to challenge ourselves to spread the attraction of Noto through our innovation and development capabilities
Our mission, that starts in Noto, is to protect natural resources and produce nutritious and delectable food.
In addition, we will pass on this food culture to the next generation.
Please trust that SUGIYO will rise to the challenge of globalization and extend the rich localism rooted in Noto throughout the world with the highest quality food.

SUGIYO CO., LTD.
Tetsuya Sugino, President
SUGIYO Group
Factories
①

HOKKAIDO Factory

②

KANTO Factory

③

HOKURIKU Factory・HEADquarters OFFICE

④

DANCHI Factory

⑤

SHIMONOSEKI Distribution Processing Center
Group Companies
Branch Offices・Sales Offices
・TOKYO
・NAGOYA
・HOKURIKU
・OSAKA
・SAPPORO
・SENDAI
・NAGANO
・HIROSHIMA
・FUKUOKA
Business Development
Research and Development

Agriculture Department

Overseas Expansion

Dietary Education

Factory Tour

Shop

Online Store

Restaurant

Harvesting Experience

Cooking Class
Overseas Expansion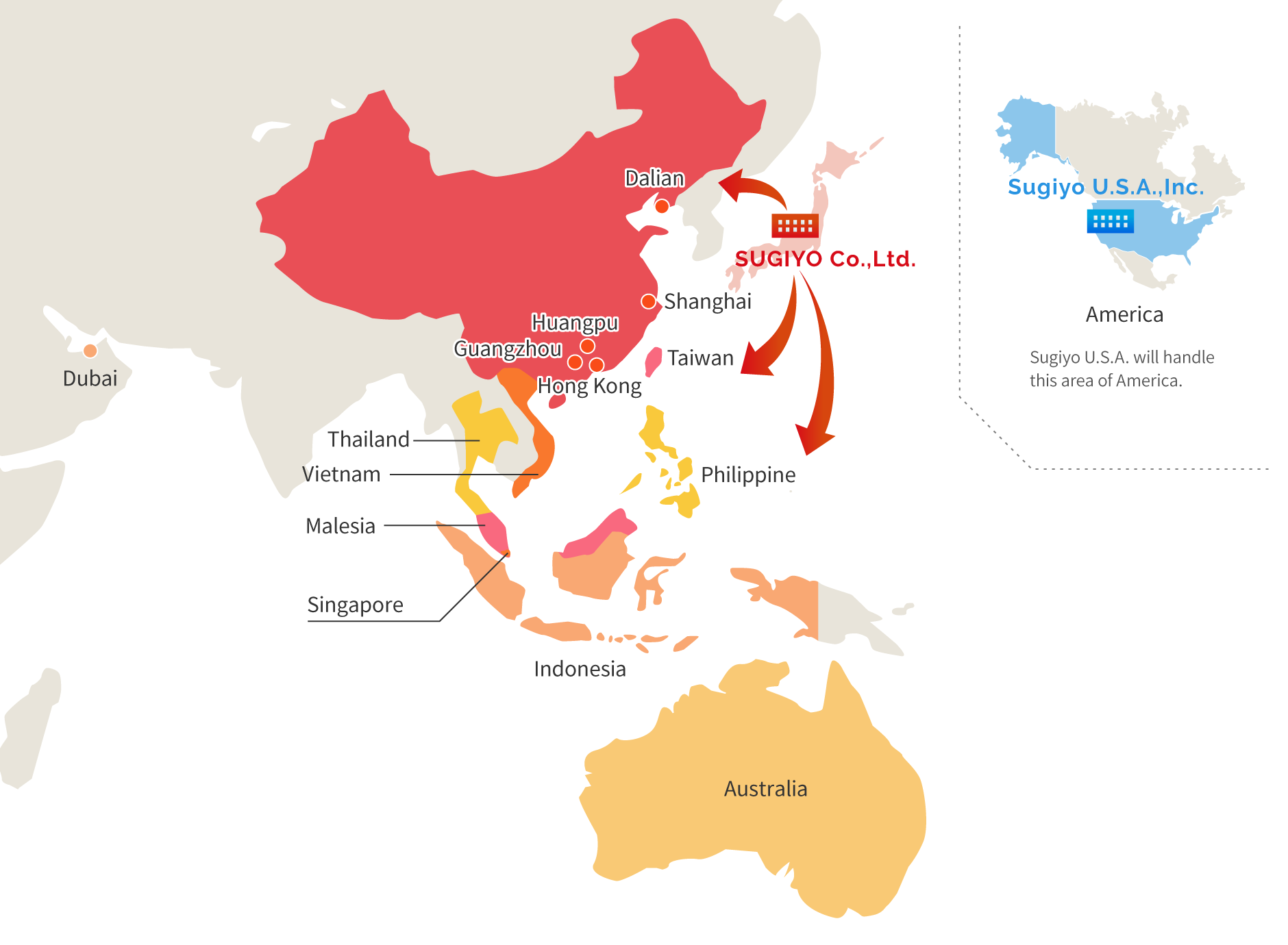 1976

Started to export to U.S.A.
1978

Trade department was established
1986

Sugiyo U.S.A.,Inc. was established in Washington State, U.S.A.
2006

Overseas department was established
2007

Started to export to HONG KONG via domestic trading company
2009

Started to export to DALIAN
2010

Started to export to TAIWAN and Singapore
2014

Started to export to China
2015

Started to export substantially
2016

SUGIYO exported 24 Containers (40FT) in a year
2017

SUGIYO exported 30 Containers (40FT) in a year
2018

SUGIYO was awarded recognition by The Minister of Agriculture, Forestry and Fisheries
Business Description
SUGIYO, as we have from the start-up, continuously works on reinforcing the structure of our export busines across the board.
SUGIYO satisfies the needs of individual customers in foreign countries and we deliver our products to you.
SUGIYO endeavors to flexibly satisfy our customer's requirements.
SUGIYO will work closely with other producers assuming the role of a Community-based trading company while collaberatively developing and selling high value products.
Field Survey

・Sales locations
・Legal regulations
・Market needs

Product Development

・Ingredients adjustment
・New product development

Know-how

・Product specifications
・Packing styles
・Design for marketing elements

Overseas Exhibition

・Exhibition attendance
・Event attendance
・Product sampling

Sales staff follow-up

・Sales promotions
・Sales promotion representatives
・POP creation

Recipe Suggestions

・Recipe development
・Cooking lectures
・Cooking demonstration
SUGIYO Co.,Ltd.
Inquiry
お問い合わせ
If you have any questions, please feel free to contact us.
We are currently only able to accommodate inquiries in Japanese, English and Chinese.
Business Hours: Monday-Friday 9 am to 5 pm. (JST)
Saturday, Sunday and holidays are closed.
Inquiry by email
Please use this form to submit your inquiries to us.
Fill in the required fields below and press the "Send E-mail" button at the bottom of the page.
※Please allow us time to respond to some inquiries as we need to confirm facts and situations for our response.
※

*

Required